Q: How do I work out the quantity of panels, skirtings, dados and joint strips I need?
A: Divide the total (in mm) by 660mm, this gives the number of Room Panels required. Every Room Panel needs one 770mm length Joint Strip (3 obtainable from one 2435mm length) and then add an individual (770mm) Joint strip whenever the run ends (at a corner, door etc). An End Strip is required at an external corner. The 2 runs of panelling that meet at a corner both end on an End strip (though one of these can be a joint strip, since you wouldn't see the edge of one of the strips) There is therefore no "Corner Strip". When calculating the number of Dado Rails and Skirting, simply divide the total run (in mm) by 2435, then round up. You will always lose a little length when doing a mitre at corners.
For stair panels, use 285mm centres and measure horizontally (i.e. using a plan view of your room) for quantities. As with the room panels, the stair panels, use one cut length of joint strip per panel, plus 1 (joint strip or end strip) at the end. You cut these joint strips to suit the slope of your stairs and again should get 3 from each 2435mm length.
Q: What is the height of the panelling?
A: The panelling when used with our skirtings and dado is approximately 965mm high (3 feet 2 inches) from the floor to the top of the dado..
Q: Can I use Room Panels with my existing skirting?
A: Yes, provided it's deep (as in thick) enough, and flat on top, otherwise as you slide the Panel down the wall to meet it, the Panel will pass over it rather than rest on it. Additionally, the depth of the top of your existing skirting needs to be sufficient to not only allow the panel to butt up to it, but there needs to be enough additional space for a small bead (quadrant ideally) to complete the "framing" of the panel. Most, even large old skirtings are not this thick. If the customer really doesn't want the hassle/expense of removing existing skirting, the Dado can be placed upside down on top of the existing skirting so you have a rebate into which the Panel can go. It's obviously up to the customer to decide whether this is aesthetically acceptable.
UPDATE FEBRUARY 2018. In fact, many of our customers have done this successfully and we've just introduced extra kits with dado to use in place of skirting for those who want to keep things simple (and save a bit of money)
Q: What do you use to hold the bottom edge of the Stair Panel?
A. Use a Dado placed upside down on top of the string. The "side" of the stair is called the stair "string" or "stringer" Note that on stairs, the joint strips between panels may not lay flat to the wall. This is normal, no need to fix these as the panels are held tight top and bottom.
Q: What about very short "runs" too short for Room Panel, even one that is cut in half?
A: The "Fill In " Panel is useful here. Very short runs are often found on landings where there is little space often between one door surround and the next. "Fill In" panels can be used for spaces up to 190mm wide. Anything over that, use a normal panel, cut to the right width of course, using just one of the two rectangular moulded detail parts.
Q. What if, in the case of a room, the window ledge is so low that a Room Panel must be cut through the moulded or raised part of the Panel to make it fit the space?
A: Just cut through the moulded part and butt up to the underside of the window ledge, obviously the window ledge must end well proud of the wall, not be flush with it. You wont see where it buts up if it's this low (unless you lie on the floor!)
Q. What thickness are the wall panels?
A: The fibreboard used to produce the panels is 3.5mm in thickness, but the material is moulded in the same way as a moulded fibreboard door, in fact the panels are cut from special sized fibreboard door skins, so when the panel is placed against the wall, the edges are approx 10mm "proud" of the wall.
The moulding process produces the depth of moulding not found on other systems (eg Easypanel from Homebase etc)
Q. Do you keep stock of all products?
A: Yes, we generally have stock of all products. Occasionally, if we have a particularly large demand for a product, we may run out before the replacements are manufactured, so it can take 1-2 weeks for new product to arrive. This does not happen very often and we will try to flag low stock products on the website. We will always let you know if there is a problem with stock.
Do you provide a fitting service?
Unfortunately not, we are a small family business and only supply the panelling. Most of our customers fit the panels themselves, but any competent joiner will have no trouble fitting our panelling
Q. Can you explain the order process?
A: It's simple, you work out what products you need and simply click the "Add to Cart" button next to each one on the order page. You can change the quantity for each in the shopping cart.
To complete your order, check the cart has the correct products listed, then follow the links to fill in your contact details - we need a contact telephone number to enable us to make an order to our carrier.
You will then be directed to Paypal for payment. Their system is quick and secure. We are notified by email of your order. We carefully package it, usually the same day or the next day and contact our carrier for collection. After we enter your order into the courier's system, we send you an email with tracking details for your delivery.
Note you can also pay by bank transfer, and now by phone if required (evenings are best times for phone orders)
Note that you can also pay by cheque - just make the order online, then after you've given your contact details, under the green "Payment Options" box, choose "Cheque". Don't worry about filling in the cheque fields in the next screen - as long as you click "Order Now" and send your cheque to us, we'll dispatch your order as soon as the cheque clears. Send cheques to Hare Wall Panelling, Langwith House, Well, Bedale, DL8 2PD. Please make sure that your cheque is made payable to Hare Wall Panelling
Q. Can you explain the delivery process?
A: We pack our parcels usually within a day or two of the order. Because of our remote location, we only have courier pickups once a week, usually Friday. Once they are collected from us, they are normally delivered 1-2 business days later.
Please note that if your order is very small (less than about 15kg in weight), the cart will add half price shipping.
Please note that we are charged a minimum of £30 by our courier for any week that we use them, so if we only have 1 order to go, and it is at the lower rate, we may hold on to that order until we have others to send with it. Note that if an order can be packed as a single parcel, less than 1.5m long, we may be able to use Royal Mail Parcel Force so you do not have to wait for our courier to collect.
Due to the nature of the product, the packages are large, many are long and most orders are several packages. Because of this, we will advise an estimated delivery, but cannot guarantee a set date. We advise you not to book work people to fit your product until it has been delivered, and not to stay in expecting delivery on a particular day. If you might not be in, please write instructions for the carrier to leave in a dry place - either at your property or with a neighbour. You can do this at time of order in the special requests section of the shopping cart, or by leaving a note for the carrier to find at your property.
We recently had 2 packs of panels that were delivered damaged to the customer - we replaced them quickly of course, but because the customer signed for them without looking at the damaged packaging, our courier has taken no responsibility for the damage. Please can customers check packages before they sign for them and send back any where the contents look to be damaged and unusable. This time, we had to replace the panels and pay to send them out again! Note that couriers will just expect you to to sign for deliveries even when they know they are damaged, you should be wary of this. This is of course a very rare occurrence.
Note that for customers who live within about 120 miles of us, we can offer a personal delivery for larger orders - a time and date can be arranged for these. We have been known to deliver personally to London and Glasgow, if the order is large enough.
Q. What is your returns policy?
A: We don't have many returns, but we are happy to refund the full value of products if they are returned at customer's expense and undamaged. Of course we will replace any goods that are damaged on delivery. We can arrange for collection by our carrier at our standard shipping charge.
Q. Who is the dog in the pictures?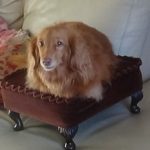 Smartie is our Miniature Dachshund. She's really feisty but loveable and unusually has a brown nose which goes well with her colouring. She's getting on a bit now, is almost completely deaf, though people still think she's a puppy and she gets adoring looks wherever she goes - especially from children.